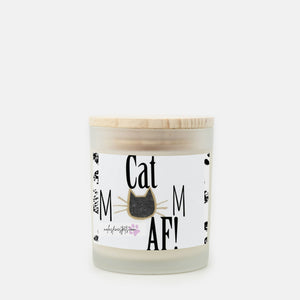 110z candles are made of a clean-burning and biodegradable Coconut Soy wax, using a vegan blend of natural apricot, coconut, and soy. A tiny amount of highly refined food-grade paraffin wax is also added. The wax is free from toxins, parabens, and phthalates, and sourced from renewable resources in the USA and offers 50+ hours of burn time. Indulge in delicious aromas such as coconut mango and cashmere vanilla.  Twila designed the New Orleans-inspired candle artwork. Dog Mom AF frosted candle available. To complete the experience, add a Gold Wick trimmer, sold separately.
Before lighting:
1.Always trim cotton wick to ¼" and ⅛"-3/16" for a wood wick.
2. Keep wax pool clear of wick trimmings, matches. & debris at all times.
While burning:
1. Keep within sight 
2. Keep away from flammable objects 
3. Keep aways from children & pets
*hand poured wax levels may vary in height & color.