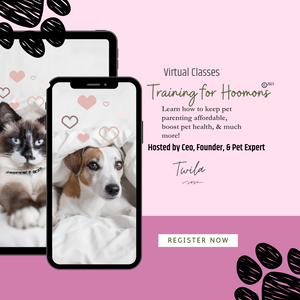 Hey there, pet lovers!  Want to become the ultimate pet whisperer? Join us for Pet Care 101: Training for Hoomons, an exciting online event where you'll learn the art of helping your furkid live his/her best life from the comfort of your own home.
Pet expert & ceo/founder of Louisiana's first bi black woman owned pet care business, NOLAs Finest Pet Care, Twila will share her valuable insights and tips to help you establish a stronger bond with your furry friends. Prepare to be amazed as she covers everything from budgeting to building your pet care team, why your insurance agent should know about your furkid, and more! Whether you're a new pet parent or have been sharing your life with furkids for years, this event is perfect for all skill levels. ✨ Grab your favorite snacks and get ready for an interactive session filled with fun demonstrations and engaging discussions. Don't miss out on this pawsome opportunity to enhance your pet care skills!

NOLAs Finest Pet Care's training for hoomans includes informative lectures, a colorful budget sheet, how to videos from emergency veterinarians, along with other vibrant course supported materials. All you need to get started is a willingness to learn and a love for furkids.
Instructions: After purchase, email info@nolasfinestpets.com with your name and order number for your access code. Use "Access Code" as your email's subject. Code will be emailed promptly.