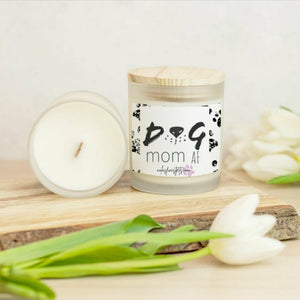 Fill your space with the relaxing scent of Cashmere Vanilla! Coconut Soy wax is clean-burning, biodegradable, and natural. A vegan blend of natural apricot, coconut, soy, and a minuscule amount of highly refined food-grade paraffin wax. The wax is toxin-free, paraben free, phthalate-free, and comes from renewable sources. The entire blend utilizes only FDA-approved waxes. The wood wick is eco-friendly and made from FSC Certified Wood, hand-crafted +, and made in the USA. Designs are sketched or painted by c.e.o, founder, artist, & fur mom, Twila.

Label: Matte Finish
Lid: Wood
Size: 11 oz. Jar and 9 oz Wax; 2.93" (W or Diameter) x 3.75" (H with lid), 9.205" _Natural Off-White (No Dyes) Material_ Coconut Soy Blended Wax(Circumference)
Burn Time: Approx. 50+ Hours
*Hand-Poured in the USA


Before lighting:
1.Always trim cotton eick to ¼" and ⅛"-3/16" for a wood wick.
2. Keep wax pool clear of wick trimmings, matches. & debris at all times.
While burning:
1. Keep within sight 
2. Keep away from flammable objects 
3. Keep aways from children & pets
*hand poured wax levels may vary in height & color.